Replacement fixed deck mounted skylights (FSR)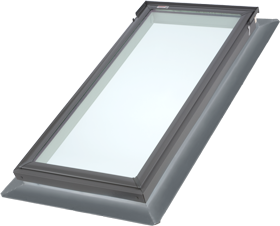 The FSR is a new series of replacement skylights designed to simplify replacing your old VELUX and competitor skylights.

The new replacement series matches the techniques that are used by roofers to replace skylights. The FSR features a larger 2.75" deck seal to span wider or less accurate openings. One size fits multiple size openings. The FSR uses standard VELUX engineered flashing and carries the 10-year No Leak Warranty. The FSR also features no drywall groove on the interior, allowing you to easliy match existing construction and minimize or avoid trim work.




Clean, Quiet & Safe Glass
Skylight Sizes
Clean, Quiet & Safe glass
Features Neat glass coating to keep your skylight cleaner, longer, leaving skylights virtually spotless.
Reduce unwanted outside noise by up to 25% less than a standard double pane glass, and up to 50% less than a plastic skylight.
VELUX recommends and building codes require laminated glass for out of reach applications.
Factory Installed Blinds
In-stock Room Darkening - Double Pleated Blinds

In-stock Light Filtering - Single Pleated Blinds
3 Layers of protection
As with most of our skylights. This product carries the 10-year installation warranty. This is achieved by our three layers of water protection.


The pre-attached deck seal on all deck mounted skylights provides a seal between the frame and roof deck for a leak-proof installation.
Adhesive underlayment for secondary water protection against the harshest weather conditions.
Engineered flashing for easy installation and primary water protection.