Fixed deck mounted skylight (FS)
Our deck and curb mounted fixed skylight is perfect for visually expanding areas such as hallways, stairwells, and other closed-in, dark spaces that can be transformed with light and sky views. It provides an economical choice in creating a spacious home that is filled with natural light. Heavy-duty materials ensure that our fixed skylight is built to withstand the installation process, as well as anything Mother Nature throws its way.




Clean, Quiet & Safe Glass
Skylight Sizes
Clean, Quiet & Safe glass
Features Neat glass coating to keep your skylight cleaner, longer, leaving skylights virtually spotless.
Reduce unwanted outside noise by up to 25% less than a standard double pane glass, and up to 50% less than a plastic skylight.
VELUX recommends and building codes require laminated glass for out of reach applications.
Factory Installed Blinds
In-stock Room Darkening - Double Pleated Blinds

In-stock Light Filtering - Single Pleated Blinds
3 Layers of protection
As with most of our skylights. This product carries the 10-year installation warranty. This is achieved by our three layers of water protection.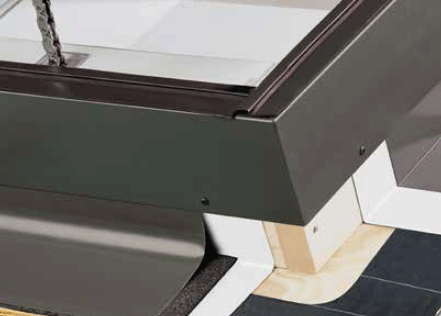 The pre-attached deck seal on all deck mounted skylights provides a seal between the frame and roof deck for a leak-proof installation.
Adhesive underlayment for secondary water protection against the harshest weather conditions.
Engineered flashing for easy installation and primary water protection.